To register for courses, or access existing courses or records, follow these steps:

Login into your account with your username and password at the top of the page.
If you are having issues, click Forgot Username/Password? at the top of the page.
Contact our office if you need assistance - do not make a new account if you already have one.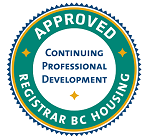 IMPORTANT NOTICE:
CHBA BC will be launching a new education website in May 2017. In order to ensure that all student information, enrollments and course records are transferred to the new system, course registrations will be temporarily unavailable.
Registration will re-open shortly. Please contact education@chbabc.org for more information.
Thank you for your patience.
Technical Requirements
Please note this portal will work best with Mozilla Firefox, or Google Chrome. Internet Explorer is not recommended.
Important Notice to All Builders in B.C.
On March 4, 2015 the B.C. Government announced that mandatory education requirements are now a prerequisite for builders applying for and renewing licenses.
The enhanced licensing system
applies primarily to general contractors constructing single-family homes and small residential buildings under Part 9 of the BC Building Code.
To obtain a new license, applicants will now be required to demonstrate proficiency in seven (7) areas related to residential construction. The seven (7) core Continuing Education courses offered by the Canadian Home Builders' Association of BC (CHBA BC) meet these new mandatory education requirements as set out by the Homeowner Protection Act.
For current license holders, applicants will be required to complete and log 40 continuing professional development (CPD) credits. All 12 CHBA BC continuing education courses can be used to obtain various amounts of CPD credits. Please review the list of courses to see the associated CPD credits.
To view or register for upcoming courses,
click here
In addition, CHBA BC's Continuing Education program delivers 12 courses that meet the CHBA National Benchmarks and provincial recommendations, while also providing business and management skills. Successful completion of all 12 courses leads to a Master Residential Builder designation.
For more details and a complete list of the builder and renovator certifications,
click here
Course Methodology
The Canadian Home Builders' Association of BC gratefully acknowledges BC Housing for its support in the development of the Continuing Education Program workshops.