If you would like to enroll in courses, please visit our new education website at
cpd.chbabc.org.
You will be able to view the course calendar, and all available course dates.
If you have any questions, please contact education@chbabc.org.
Thank you for your patience.
------------------------------------------------------
Courses for New Residential Builder License Applications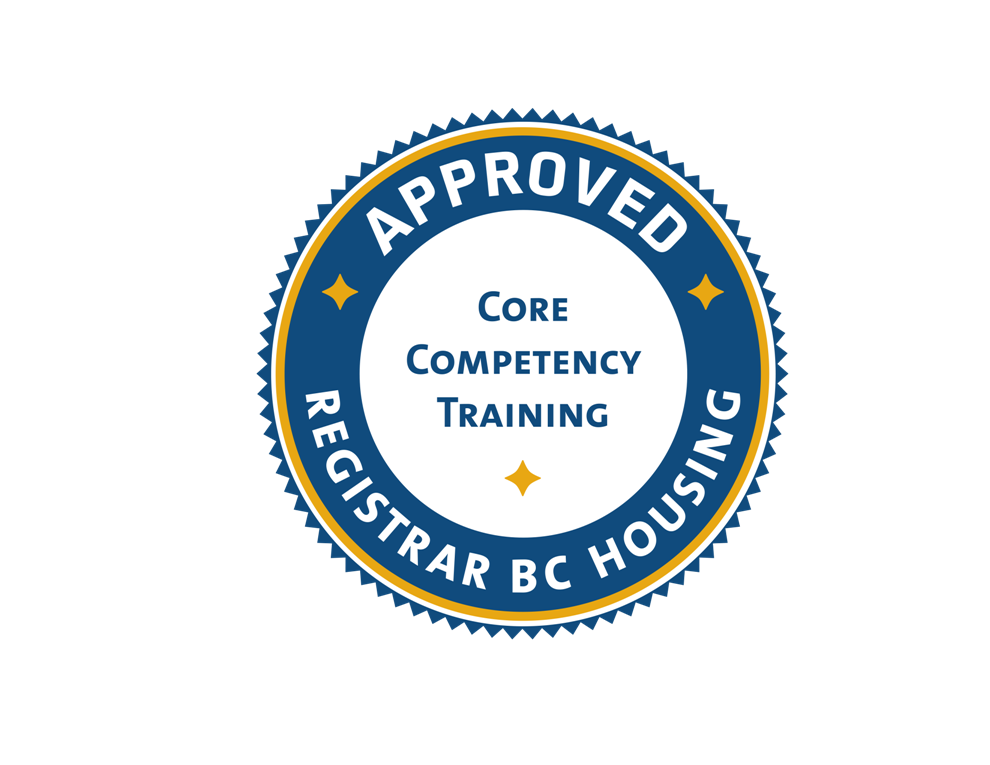 Please note this information is provided solely to assist applicants with the process. Any relevant questions on the licensing and application process should be verified on the official website for new builder qualifications.
What do I need to do to apply for a license?
1. General contractor applicants must provide proof of 24 months experience managing or supervising residential construction within the last 5 years.
2. Applicants need to demonstrate competency by successfully completing approved training in 7 competency areas.
Here are the 7 CHBA BC courses that meet the 7 competency requirements. The name on the left is the Licensing and Consumer services competency, and the name on the right is the corresponding CHBA BC course name (click on the course name to view the course descriptions and fees.)
Relevant enactments = BC Building Code - Single Family Dwelling
Construction management and supervision = Project Management & Site Supervision
Construction technology = Building Science for New Homes
Customer service and home warranty insurance = Service & Warranty
Financial planning and management = Financial Management
Legal issues = Construction Law
Business planning and management = Business Planning & Management

Course Requirements
The student will be sent a textbook by mail in advance for all courses.
To pass the course, the student must:
Successfully complete the online quizzes and reading materials through the CHBA BC Education Portal. Click here to access the portal.
Submit the assignment(s) to the instructor by email, two weeks before the in-class session.
Attend the one-day in-class session and successfully pass the final exam with a score of 80% or higher.
For only Building Science for New Homes, there is no online quizzes or assignments. To pass this specific course, students only attend a two-day in-class session and pass the exam with a score of 80% or higher.
After passing the course, students will receive a certificate from CHBA BC indicating completion.
To Register
Each course can be registered for online
using this portal
after creating an account. Students are required to set their own schedule for the courses - please schedule ample time between the course dates to allow yourself enough time to complete the additional requirements; charges will apply to change any course dates or to re-write any exams as per the
CHBA BC Continuing Education Policy.
If you are having difficulties with registration please email education@chbabc.org or call 604-432-7112 ext. 323
.
Nominee for Qualifications
Companies may nominate several individuals to meet the qualifications requirements on behalf of the company.
Click here
to visit the Licensing and Consumer Services website to learn about nominees.
Prior Learning Assessment and Recognition (PLAR)

If you feel you have the requirements through other training, you can complete a Prior Learning Assessment and Recognition (PLAR). Please note this process can take several months to complete and be evaluated due to the high volume of applicants. Please visit the Licensing and Consumer Services website to learn about the PLAR.
Other Links